Marcel Vaid born 1967 in Erlangen, Germany, Nationalities Swiss and German, mother from Germany, vather from India. Works as a composer, musician (guitar) and musicproducer for film theatre. Composition and production of filmmusic for over 80 fiction and documentary films. Marcel Vaid is the head of the electro-acoustic experimental collective Superterz.
Collaborations a.o. with Nils Petter Molvaer, Toshinori Kondo, Mauro Pawlowski (dEUS), Rodrigo Gonzales (Die Ärzte), Norbert Möslang (Voice Crack), Kate Havnevik, Marianne Schroeder (John Cage), Lauren Newton (Vienna Art Orchestra), Alain Monot (The Young Gods), Burnt Friedman or Jojo Mayer (Nerve). In film Marcel Vaid has worked a.o. with director Léa Pool (can), Eliza Kubarska (pol), Fredi Murer (ch), Marcus Vetter (ger), Milo Rau (ch), Greg Zglinski (pol), Iiris Härmä (fin), David Pinillos (esp), Tommaso Landucci (it) or oscar-nominated Timo von Gunten (ch).
Marcel Vaid's most important goal is to develop an individual language, an individual and discreet soundscape for every film. In the foreground is the motto LESS IS MORE. An outstanding sound-aesthetical concern is the examination of acoustical instruments and their stereoscopic processing in the computer. Marcel Vaid's film music has also been recorded by big symphony orchestras such as the Meran Symphony Orchestra, the 21st Century Orchestra Lucerne (with conductor Ludwig Wicky) or the Budapest Art Orchestra conducted by André Bellmont. Marcel Vaid gives diverse Masterclasses and is working as a guest lecturer at the Zurich University of the Arts.



Marcel Vaid has been honoured a number of times for his work: 2019 he wins for his original score in 'Chris the Swiss' his fourth Swiss Film Prize 'Quartz' 'Best Filmmusic' and was nominated 'Best Music' for the German Filmmusicprize at the Dok.Fest Munich, 'Best Original Score' at the 'European Animation Award' in Lille and for the Cristal-Pine-Award 'Best Music in a Feature Film' at the International Filmmusik Festival ISFMF in Pula, Croatia.
Winner Swiss Filmprize Quartz 'Best Filmmusic' 2016 for «When the Sun fell», 2009 for «Zara» and 2011 for «Goodnight Nobody». 2009 Winner 'Prix Fondation Suisa' Filmfestival Locarno «Tandoori Love», 2009 'Best Filmmusic' Filmfestival Valencia (Spain) «Where is Max», 2003 'Best Filmmusic' Filmfestival 'Premier Plan' «Joshua», Angers (France) (Jurypresident Jeanne Moreau). 2018 Nomination Swiss Filmprize Quartz 'Best Filmmusic' «The Kongo Tribunal», 2016 «Köpek» (Doublenomination with «When the Sun fell»). 2009 Nomination 'Best Filmmusic' «Goodnight Nobody» Filmfestival Aubagne, France.
In 2022 Marcel Vaid was honoured as Composer in Focus of the Zurich Film Festival ZFF with a medley of selected works performed by the Zurich Tonhalle Orchestra conducted by Frank Strobel.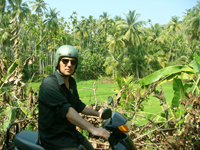 marcel vaid
composer for film and theatre
musician > superterz
marcel vaid
laurenzgasse 3
ch-8006 zurich
switzerland
mail to:
marcelvaid(at)bluewin.ch